The Galaxy Cruz Pro Angler kayak has been designed to accommodate every need of today's kayak fisherman. Whether you are just starting out or are experienced, the Galaxy Cruz Pro Angler comes equipped for any occasion. Optional Vista High Seat Available Separately here, rails not included.
Note that this kayak includes a premium comfort seat and paddle as standard.
SIZE - L: 283cm, W: 82cm, H: 35cm
WEIGHT - 22 Kgs
100% secure payments
Average votes for this product
Based on
15
customers advices.
Cruz Pro Angler
ALL KAYAKS COME WITH A COMFORT SEAT AND GALAXY PADDLE
The Galaxy Cruz Pro Angler kayak has been designed to accommodate every need of todays kayak fisherman. Whether you are just starting out or are experienced, the Galaxy Cruz Pro Angler comes equipped for any occasion.

This kayak is designed to maximise stability with its 82cm width and specially designed flat bottom and angled edges, which helps maintain stability even when reeling in the most strenuous fish. Even though it's a shorter kayak, the Galaxy Cruz Angler still maintains a good cruising speed thanks to its sharp front keel and V-shaped stern, along with it hydrodynamic hull that have all been designed to make it a smooth and easy ride.

The new Cruz Pro Angler comes with some fantastic new upgrades that have all been added this year thanks to the constant feedback we have received from you. 

It includes copper inserts for safely fixing Starports to the hull. One horizontal insert at the front of the deck and a vertical at the back which allows for easy insertion of railblaza starports & sideports.

These inserts allow for easy and drill free installation of popular and even mandatory accessories (in certain regions), like the Railblaza Visibility Kit or Flagwhip at the rear of the kayak, or Cameraboom & Camera Mount in the front of the kayak.

After listening to customer requests we have added moulded inserts to the seating area so that you can add a High Chair to the Cruz Pro Angler. Perfect for longer sessions in calm water!
The Cruz Pro Angler also comes with the standard four flush mount fixed rod holders and one swivel pro rod holder, which gives you ample choice for your preferred fishing setup. 

The front storage hatch gives access to the hull for storing any extra material not in use, as does the rear storage area that can now hold your equipment even safer with its numerous coloured bungee cords. The middle hatch sets the Cruz Pro Angler apart from the competition as it comes with a tacklebox for your lures, hooks, weights and other smaller gear as well as a live bait well underneath. 

The Galaxy Cruz Pro Angler is the perfect kayak to get you onto the water and land your next big catch. This kayak also comes with CE certification, which is the only one of its kind in its category.

Like all Galaxy Kayaks, the Cruz Pro Angler comes with our three year guarantee and is fully equipped with a premium seat and a paddle so all you need is a lifejacket, and you're ready for your next adventure!

The all new Galaxy HV (High Visibility) Series™ comes with three lifelines and three Bungee cords in various colours. These are intended to make your kayak more visible for added safety on the water. These are included as standard in all kayaks from our new Galaxy HV Series™. They come in Orange, White and Black. This selection allows you to chose the final look you give your kayak; bright colours gain more visibility on the open water or dark ones camouflage with the shore line of a river - the choice is yours.

The Galaxy HV Series™ kayaks also come in a range of new colours to choose from for ultimate visibility to full camouflage mode.

Ensure the added safety of your equipment against all conditions with an optional combination of two or three bungee cords available for the rear storage boot to tie and secure your gear.

Whether you are looking for added safety or simply like to have fun on the water chose a truly unique look with the Galaxy HV Series™.

For more information on delivery, payment or warranty please read our FAQ. 
Why choose Galaxy Kayaks? 
Over 20,000 kayaks sold across Europe

Plenty of customer reviews available

Featured in some of Europe's most distinguished speciality magazines

3 years guarantee

30 days no questions asked promise

Real CE (Conformité Européenne) approved kayaks

 

If you want more reasons to trust Galaxy Kayaks read Why Choose Galaxy Kayaks?
This Kayak Includes:
NEW: moulds to add our High Seat. Perfect for long sessions on calm water
2 copper inserts strategically placed around your kayak. One insert has been placed at the rear of the kayak for the addition of safety equipment like the RailBlaza Flagwhip or Railblaza Visibility Kit II using a Sideport. Another insert is placed in the front of the kayak for accessories like the RailBlaza Camera Mount and Camerabooms.
1 central storage hatch with a live bait well: comes with option to use as live bait-well for either a wet or dry setup (just choose whether to use scupper plug) and with hermetic seal.
1 large front storage hatch: for easy access and general storage, complete with hermetic seal
1 splash bag that comes within the hatch. Note, we recommend storing any fragile items, such as mobile phones, in dedicated waterproof containers (see NRS products) as humidity and condensation can still get within the splash bag
1 tackle box: located in the central storage hatch, this gives you easy access to all your tackle
6 drainage points: located around the kayak allowing you to choose where to drain water whilst maintaining desired areas dry
6 scupper plugs: made from high quality rubber. Insert and remove when required for self-drainage system to activate
2 paddle clips: to safely store your paddle when not in use
4 small flush mount fixed rod holders: two placed in the front and two in the back for user preference
1 swivel pro rod holder: for multidirectional fishing use and central fitting area for easy connection
1 x bow and stern handle: for easy transport of your kayak
2 x side handles: for easy transport of your kayak
2 rear screw mounts to connect accessories such as anchor cleats 
1 moulded drink holder: to carry easy access drink to keep you hydrated
8 D rings: for easy clip-on of items such as seats
1 drainage plug: to completely drain any bilge water that has been absorbed into the hull after use
4 moulded foot braces: for comfortable positioning whilst paddling
1 premium comfort seat: with added padding to help with increased time on the water. It also comes with built in rear storage for keeping any bits and pieces at hand 
1 two-piece paddle: made from high-grade aluminium making it light and weather resistant. The paddle can be easily constructed and deconstructed for easy storage
Specifications: 
Length: 283cm, width: 82cm, height: 35cm

Weight: 22kg, max cumulative weight: 130kg

Suitable seat options for KP-NY06 are:
2. A-09E    -  Beige seat w bent bar no storage pocket (Low seat no space under)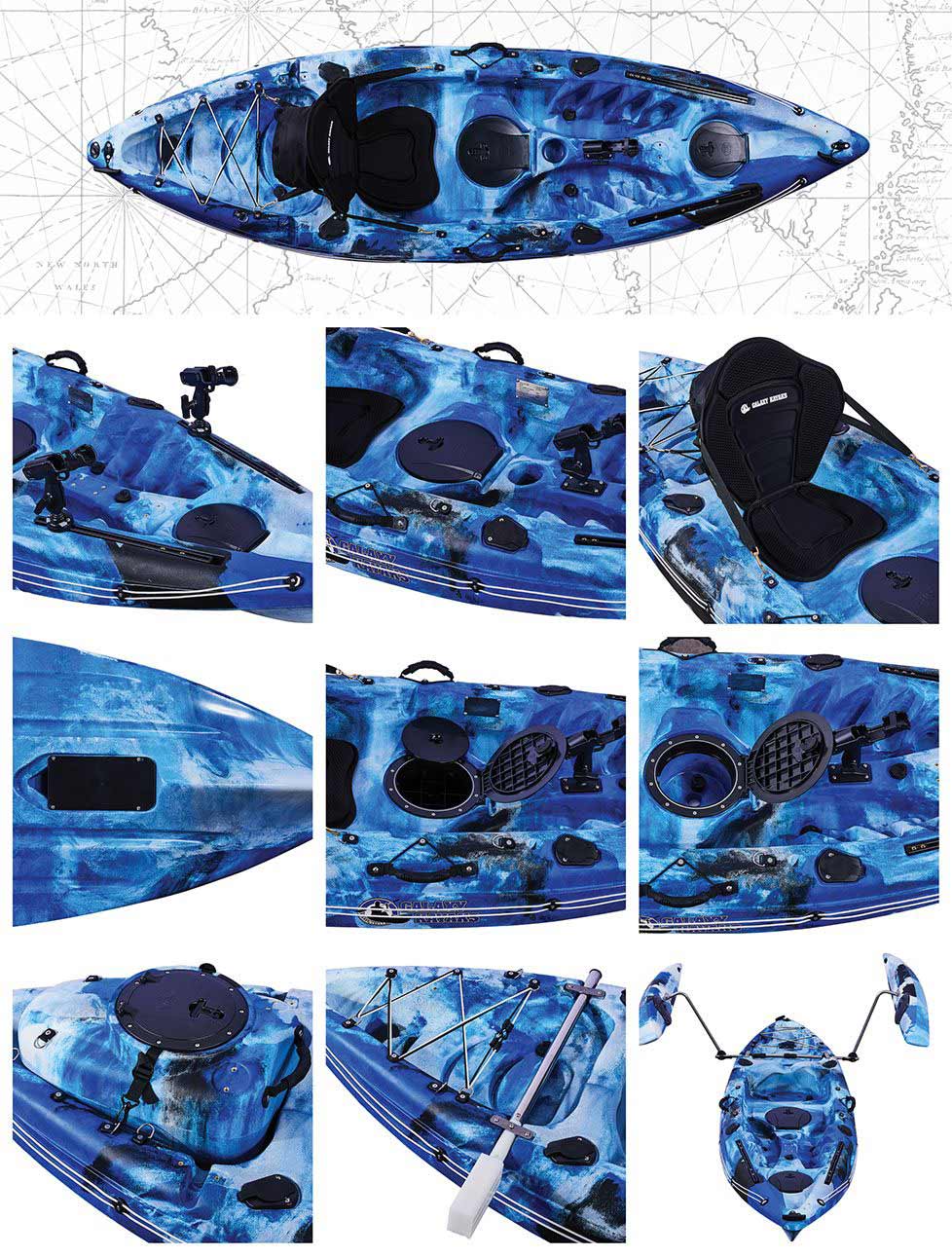 Width

82 cm

Height

35 cm

Weight

22 kg

Max Cumulative Weight

130 kg

Guarantee

3-year warranty

Length

283 cm
Average votes

4.7 / 5

15 advices

Why review our products?

You help other people in their purchases by sharing your experience.
Amazing quality at an affordable price
The kayak is amazing and really delivers on quality and affordability.
Martin
Hi, excellent service (again) from the good people at Galaxy. Only slight problem was delivery address error, but I was able to...
BOUGHT THE CRUZ AS FIRST KAYAK
I bought the galaxy Cruz fishing kayak which was my first kayak around 3/4 years ago. It didn't disappoint at all, plenty of...
Crazydave
Great customer service. Prompt delivery.
wullie wison
ordered one day came the next excellent service thank you
Be the first to ask a question about this product!
Customers who bought this product also bought: