If you're looking for the ultimate kayak that can be powered by pedal, paddle or motor and that comes fully rigged with lots of accessories as standard then look no further than the Wahoo S series! 
This kayak includes a seat and paddle as standard.
PLEASE NOTE: This kayak comes with the Avanti pedal drive as standard. To set up the motor version, purchase the Pro-Pel 44 motor and G-Line foot pedals separately.
SIZE - L: 360, W: 810, H: 380
WEIGHT - 32 Kgs
100% secure payments
Average votes for this product
Based on
1
customers advices.
Wahoo S Series
If you're looking for the ultimate kayak that can be powered by pedal, paddle or motor and that comes fully rigged with lots of accessories as standard then look no further than the Wahoo S series! 
Using the Wahoo S series as a pedal kayak allows you to fish hands free and silently, meaning you can pedal while fishing without spooking the fish. The electric motor option allows you to reach your destination at a faster speed and effortlessly! While the paddle option is for those of you who prefer the traditional form of kayaking. All options are great and most importantly fun - leaving you open to switch up between them or simply sticking to the style that fits you best.
The Wahoo S series is the brainchild of countless fishermen and kayakers who wanted a versatile kayak that could be adapted to their needs. The result is a kayak that can be purchased with three different propulsion systems as well as various performance improvements to its predecessor. 
The first notable change is the redesigned rocker which lifts the nose and makes this kayak even more sea-worthy. We wanted a kayak that had the right shape, length and width so that it could break waves with ease and still be used comfortably with a paddle. 
Another new feature is the addition of a hand rudder control system. This allows more functionality for those who want to make the most out of the Avanti pedal drive system. The hand rudder offers an easy control system that also helps maximise onboard cockpit space (more room for your stand-up fishing sessions). But don't fret, for those of you who want to use the foot steering, you can purchase these separately. Versatility and customisation is what this kayak is all about.
This spacious kayak comes with an elevated Vista Chair that gives maximum comfort and great visibility as you glide along the water. Another new feature is that the chair has been placed on rails which allows for adjustable positioning when using the new pedal drive system. And of course the chair has been designed with maximum stability in mind so that you can sit comfortably above the water and avoid getting wet.
Unlike our other models that allow you to attach an external motor, the Galaxy Wahoo S incorporates the motor or pedal drive into a dedicated compartment that sits neatly in the centre of the kayak.
The Avanti Pedal Drive is the new pedal drive system for the Galaxy Wahoo S series kayak. This pedal drive has a 1/10 rotation, which means for every rotation of the pedal the propeller turns ten times. The pedal drive also comes with a grease valve for the easy addition of grease and with plastic pedals and a strap so that you can easily use the pedals barefoot.  
Using the Wahoo S series with the electric motor option will allow you to travel long distances the likes of which a strong and fit paddler or pedaller would struggle to cover. And certainly not with as much ease as with using this motor kayak.
Are you a Kayak Fisherman that loves trolling? If so, the Wahoo S series is a wise choice. By choosing either the pedal or motor version of this kayak you can rest assured you can travel at a steady pace and save your energy for what is about to come - that prize catch. This is ideal for trolling as we maintain a steady speed and remove any distractions from our hands. 
As soon as we remove the paddle from our hands we are able to remain focused on our main goal while kayaking - fishing! Hands-free Kayak Fishing means we benefit from quicker reactions to what the rod is doing. We can still easily control the direction of the kayak with the hand rudder control unit with a quick flick of the wrist (or by using the foot pedals).
Using a motor kayak when sudden gusts of wind pick up or when the current is strong also has its obvious benefits. 
Whether it's for fishing or not this kayak is simply great fun! It allows you to travel longer and further than you have before and experience new waters. It gets you out into nature and opens up a world of new adventures that may not have been possible before.
The Wahoo S Series kayak measures 357cm long by 84cm wide which makes it very stable and also features our new sharp rocker which allows the kayak to easily cut through water. This kayak comes geared up for some serious fishing with four sets of rails, two in the front and two in the rear, for the addition of up to 14 Railblaza Starports. 
Additionally this kayak comes with an electric port that is situated close to the centre hatch. The special waterproof socket allows you to secure the motor in place and quickly plug straight into the power source. The port has cabling pre-mounted through to the battery compartment that is housed in a dedicated enclosure just behind your seat.
At Galaxy Kayaks, we know that onboard space and storage is precious, which is why we've included a round 8" central storage hatch as well as our new front storage hatch with lid for storing any extra larger material close to hand.
Like all Galaxy Kayaks, the Wahoo S series comes with our three year guarantee and is fully equipped with a Vista High Seat. The kayak also comes with a paddle as standard so all you need is a lifejacket, and you are ready for your next adventure!
The Galaxy HV Series™ kayaks also come in a range of new colours to choose from for ultimate visibility to full camouflage mode.
Ensure the added safety of your equipment against all conditions with an optional combination of two or three bungee cords available for the rear storage boot to tie and secure your gear.
Whether you are looking for added safety or simply like to have fun on the water chose a truly unique look with the Galaxy HV Series™.
For more information on delivery, payment or warranty please read our FAQ. 
Why choose Galaxy Kayaks? 
Over 20,000 kayaks sold across Europe

Plenty of customer reviews available

Featured in some of Europe's most distinguished speciality magazines

3 years guarantee

30 days no questions asked promise

Real CE (Conformité Européenne) approved kayaks

 

If you want more reasons to trust Galaxy Kayaks please read Why Choose Galaxy Kayaks?
This Kayak Includes:
NEW: Lifeline made from durable rope this durable rope allows fisherman to connect items to it, and is useful for manoeuvres such as anchor positioning. 
NEW: rear storage area with bungees: the new models come with three coloured bungees for you to choose your favourite option (Colours included in kayak are Black, White and Orange). This area makes it easy to transport items on the kayak 
NEW: Transducer compartment with new protective cover: located in a scupper plug hole on the bottom of the kayak. This means you can fit the transducer under the kayak in direct contact with the water and easily pass cables through to your fish finder whilst keeping the unit safely protected. No DIY necessary - Galaxy Kayaks are ready for you, meaning you can spend more time out on the water
4 rail mounts: two in the front and two in the rear for the addition of up to 14 Starports or other accessories and ideal for customising to your preference
1 round 8" central storage hatch: for easy access and general storage, complete with hermetic seals
1 dedicated battery compartment: found directly behind the seat of the kayak. This compartment has cabling already laid from it to the new Electric Port
1 electric port: for the easy connection of your Propel-44 motor and two connections for the easy attachment of electrical items using positive and negative ports
1 hand rudder control system: for easy manoeuvrability of the kayak
1 Vista High Chair: for added comfort and higher seating position. This kayak includes the Vista High chair from Galaxy Kayaks which has now been mounted on rails and is adjustable for the use of our pedal drive system
Option to add low seat: an important factor to note is that this kayak can also be used with a low seat for those who prefer this style of seat
1 tackle box: located in the central storage hatch, this gives you easy access to all your tackle
10 drainage points: located around the kayak allowing you to choose where to drain water whilst maintaining desired areas dry
10 scupper plugs: made from high quality rubber. Insert and remove when required for self-drainage system to activate
1 front storage area with hatch cover: to store any extra necessities and with added protection from  water
1 rear storage area: complete with bungees, this area makes it easy to transport items on the kayak
1 G star rod holder: for multidirectional fishing use with Railblazas famous Starport support system
2 Gstar  Starports: for the use of a wide range of Railblaza accessories
1 moulded front handle: for an ergonomic carrying angle and more durability
1 moulded rear handle: for an ergonomic carrying angle and more durability
2 x side handles: for easy transportation of your kayak
1 moulded drink holder: to carry easy access drink to keep you hydrated
10 D rings: for easy clip-on of items such as seats
1 drainage plug: to completely drain any water that has been absorbed into the hull after use
Choose between: 
Propel 44 Electric Motor: this purpose built electric motor has 5 forward and two reverse speeds. This new version comes with a dedicated housing unit that fits perfectly into the central hatch. This results in less vibrations and noise which improves user experience.
Or
Avanti Pedal Drive: a dedicated pedal drive system that has a 1/10 pedal to propellor rotation. It comes as standard with a grease valve, plastic pedals with straps and a carry handle.
Or buy both the electric motor and pedals together and get a discount!
Model: NY-11
Material: UV resistant, high-grade LLDPE
Length: 357cm, Width: 84cm, Height: 38cm
Weight: 38.5kgs
Max Carry Weight: 180kgs
Motor Specs:
Battery compartment size: 370x200x260mm
Motor Drive system: 44lbs motor 12V 480W
Speeds(Forward/Reverse): 5/2
Propeller: 2-blade
Motor Size: 395mm * 180mm * 555mm
Motor Weight: 7.4kgs
Recommend battery: 110AH
Avanti Pedal Specs:
Ratio of propellor: 1:10
Size of propellor: 31cm
Size of cranks: 16.5cm
Material: Marine grade aluminium
Weight: 7.8kgs
Height: 77cm, Width: 31.5cm
Suitable seat options for NY11 are:
1. A-09D-(2)SL: Beige Vista seat with bent bar and storage pocket + Sliding option for NY11 (Metal buckles)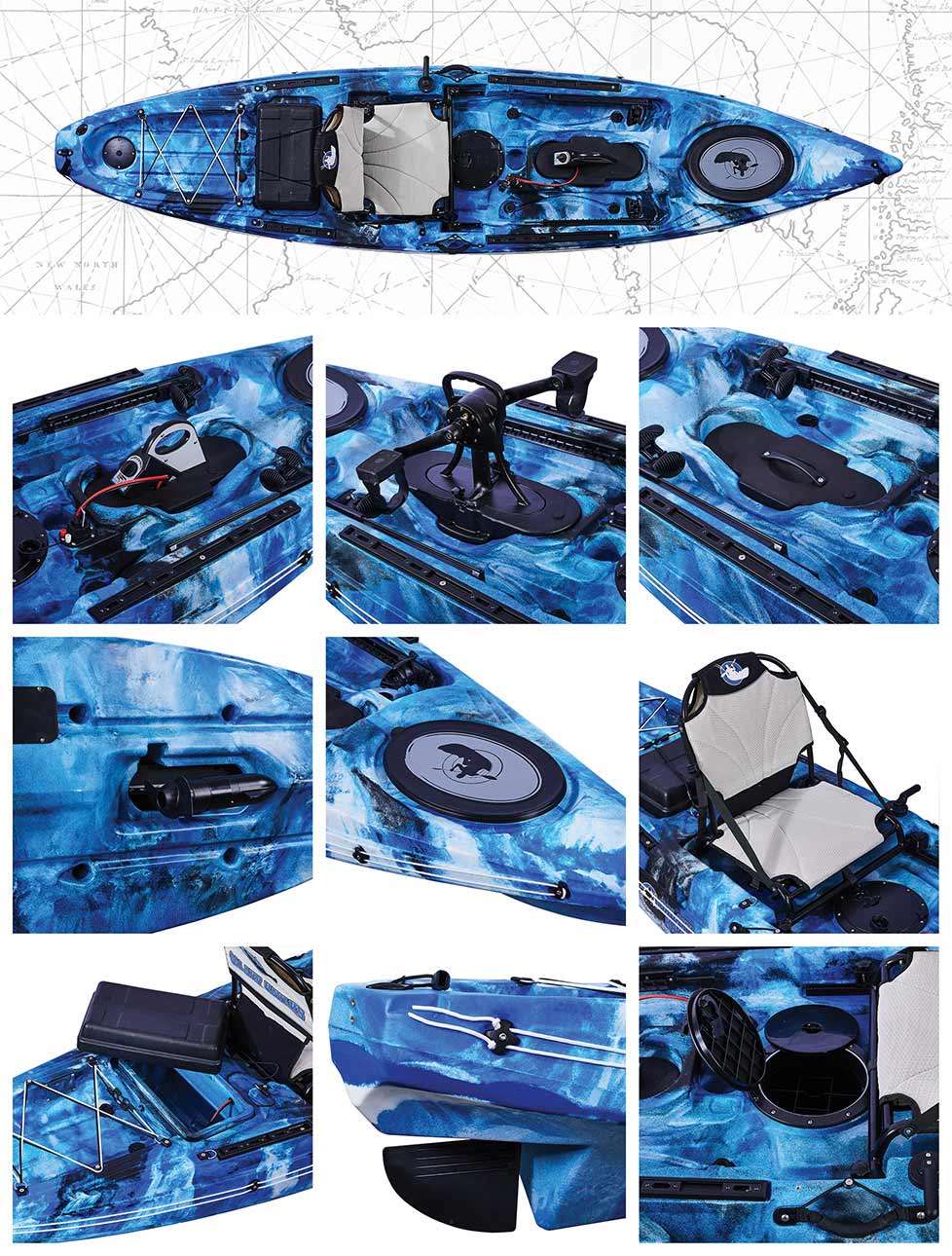 Width

81 cm

Height

38 cm

Weight

37.5 kg

Max Carry Weight

180 kg

Type of Kayak

Fishing & Leisure

Length

360 cm

Guarantee

3-year warranty
Average votes

5.0 / 5

1 advices

Why review our products?

You help other people in their purchases by sharing your experience.
quick delivery
ordered my wahoo over the holidays and soon as they got back my kayak was delivered 3 days later .. rest of the kit arrived a...
Be the first to ask a question about this product!
Customers who bought this product also bought: